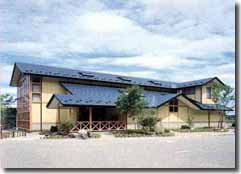 @May 1996 With a famous novelist Mrs Aiko Satou
@Place: SATOU HACHIROU commemoration hall
front side: Satou Hachirou commemoration hall complete view
reverse side: a Japanese modern poetry song literary hall @@¨
"Blood" is the masterpiece of Aiko Satou who was called rare roman-fleuve describing the Sato whole family, and won the 48th Kikuchi Prize in 2000. Is it this photograph at the time of the series of part II "Blood" to separate volume Bungeishunju? May 23, 1996 The building for transferring the articles left by the departed of a poet SATOU HACHIROU which were in the commemoration hall of Yayoi-cho, Bunkyo-ku,Tokyo to the Kitakami Tenshouchi public inside a garden Iwate Prefecture is built. It is a thing when meeting Aiko Satou who came to the completion ceremony. By chance, we have also participated in the Kitakami board-of-education-sponsored ceremony on the edge taking advantage of having been Mr. Shiro Sato's Madam who used to be dance friend of us and Mr. Shiro Sato having been the superintendent of the 2nd generation HACHIROU commemoration hall.

©@Kitakami-shi At a Japanese modern poetry song literary hall
Please touch a picture lightly with a mouse.
@When the novel describing the youth group of JAZZ Men to which a hero's ALTOSAX PLAYER takes an active part in the stage in Yokohama was carried, there was an echo from a foreign person in Japan. @@
I decided to newly prepare an English page.@@
@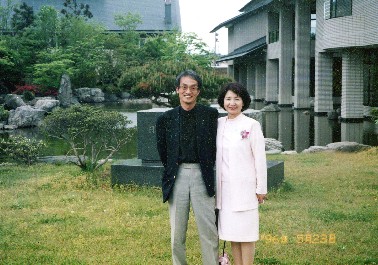 Please touch a picture lightly with a mouse

@"₯ŠξFthe meaning of Touki
@ The Dance is faithfully stepped on to foundations.



Wellcome to "Touki's chamber of the Novels" !
@@@@@@Please relax and enjoy yourself.@@@@@@
@@

¨
Japanese page
.